Brand new for 2021, Brilliant Trails biggest ever upgrade to the Loch Lomond Faerie Trail!  From our new Faerie Entrance to extending the Quarry Path a further 500m. We brought some very talented artists from across the UK to create some one-of-a-kind handmade sculptures around the trail. With every design sympathetic to the beautiful woodland. The adventure begins in Luss Estates new car park; there, you will receive your freshly designed fun-packed activity booklet, which brings the new magical tale to life. Returning visitors will find new trail markers to solve the latest mystery of the missing letter!
The development of the faerie trail has been part of an ongoing partnership with Brilliant Trails and Luss Estate since 2018. Brilliant Trails are delighted that a significant increase in footfall over the past years has resulted in reinvesting in the trail to expand and further the experience. 
In anticipation of the growing numbers coming to visit the trail this season, the Luss Estates company has even invested in a new car park as part of a broader strategic initiative to accommodate the volume of cars visiting the trail.
"The Missing Letter" is our most extensive upgrade to date. We've introduced the children of Luss to a new set of characters along their adventure. Each one designed bespoke for Luss Estate. There are plenty of 'wow' moments, starting with our life-sized magic unicorn.
Hand-carved totems stand at either side of the entrance to the enchanted woods. It's worth the trip alone to witness these works of art. Each time you take another look, you'll discover another intricate detail. 
During briefings of how Loch Lomond Faerie trail could improve, the client raised visitors stumbling across the trail without a ticket. Brilliant Trails listened, and our talented team created a bespoke Faerie Guard Hut. Which could be secured at night and guarantee you would need a ticket to reach the enchanted woods. Problem solved!
Brilliant Trails have created some signature features over the years. We have become well known for our magic schools and thrones. We decided to top any magic schools or thrones made to date.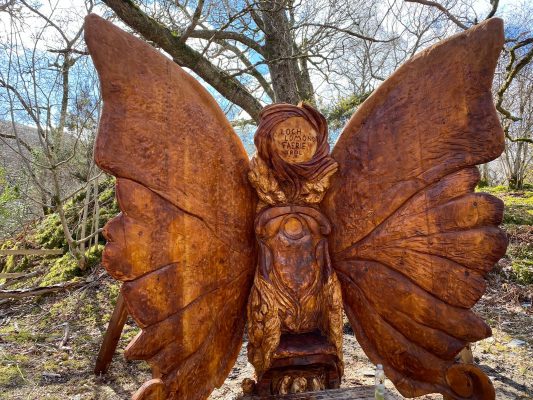 Loch Lomonds magic school features a hand-carved fairy headmistress complete with a library of books. Children can explore the mini-castle and take a seat on our toadstools whilst completing their magic lesson on the giant blackboard.   
Our magic throne will make even a tall 6ft man appear tiny when sat upon it. Some sculptures and well-loved features haven't been lost. Just a clean and a lick of paint was enough to bring these beloved pieces back to life. Brilliant Trails feel it's essential to stay connected with our clients and manage and maintain the trails through upgrades and seasonal events.
Our mission since 2018 has been to revolutionise the way people interact with Loch Lomond and help them create a sustainable and highly profitable visitor experience. We can't wait to see what the public thinks of the exciting new additions to the trail when they visit this April!